Mustang

Inventar

Anzahl der Beiträge :

1166


Anmeldedatum

: 11.01.13


Alter

: 58


Ort

: Schweiz


Laune :

Sehr gut

am Di Jan 22, 2013 10:38 am
Seite A:
Mean Woman Blues
Teddy Bear
Loving You
Got A Lot O' Livin' To Do
Lonesome Cowboy
Hot Dog
Party
Seite B:
Blueberry Hill
Jailhouse Rock
Treat Me Nice
That's When Your Heartaches Begin
Have I Told You Lately That I Love You.
Land: JAPAN
Label: RCA VICTOR
Erschienen: November 1958
Kat.-Nr. LS-5548
Die Seite B hat nicht die gleichen Songs (nur Blueberry Hill) wie auf der Amerikanischen LP.
Mustang

Inventar

Anzahl der Beiträge :

1166


Anmeldedatum

: 11.01.13


Alter

: 58


Ort

: Schweiz


Laune :

Sehr gut

am Sa Feb 06, 2016 4:48 pm
Titel:
LOVING YOU
Seite A:
01. Mean Woman Blues
02. (Let Me Be Your) Teddy Bear
03. Loving You
04. Got A Lot O' Livin' To Do
05. Lonesome Cowboy
06. Hot Dog
07. Party
Seite B:
01. Blueberry Hill
02. True Love
03. Don't Leave Me Now
04. Have I Told You Lately That I Love You
05. I Need You So
Land: Japan
Label: VICTOR
Erschienen: Juli 1962
Kat.-Nr.: SHP-5085
Format: 12" / 33 1/3rpm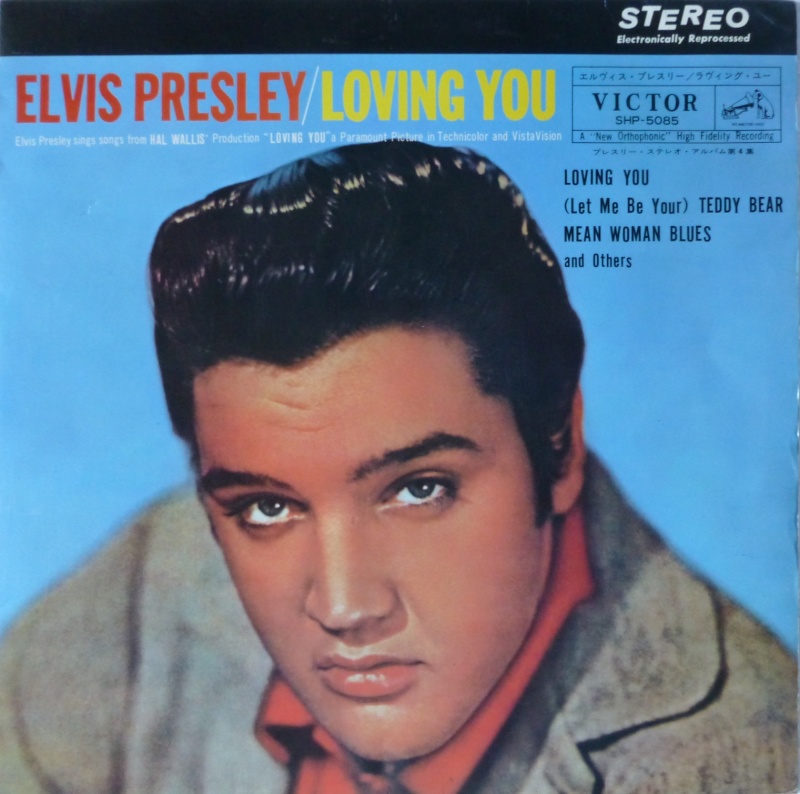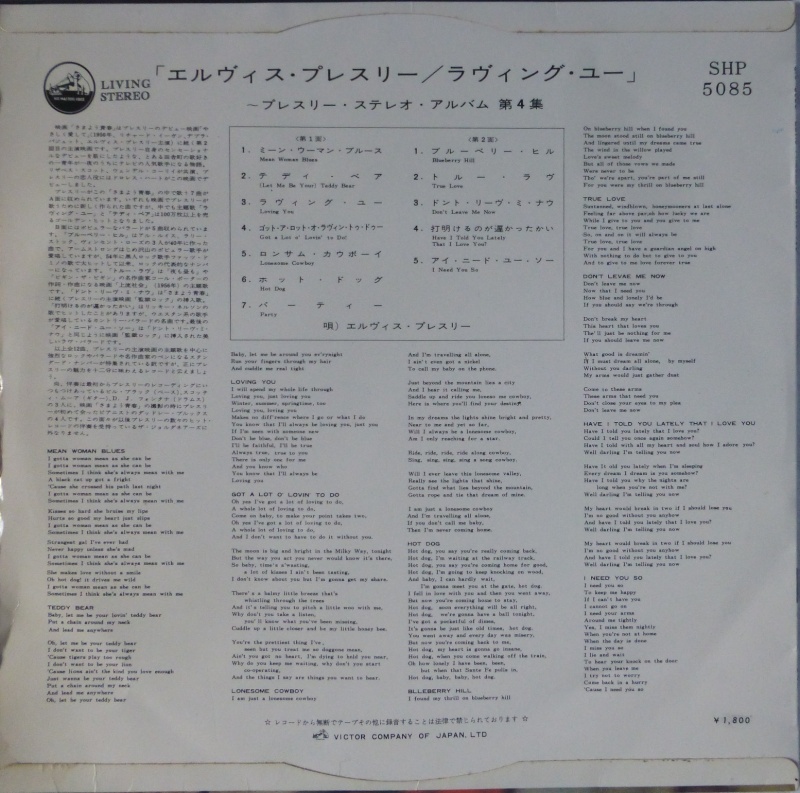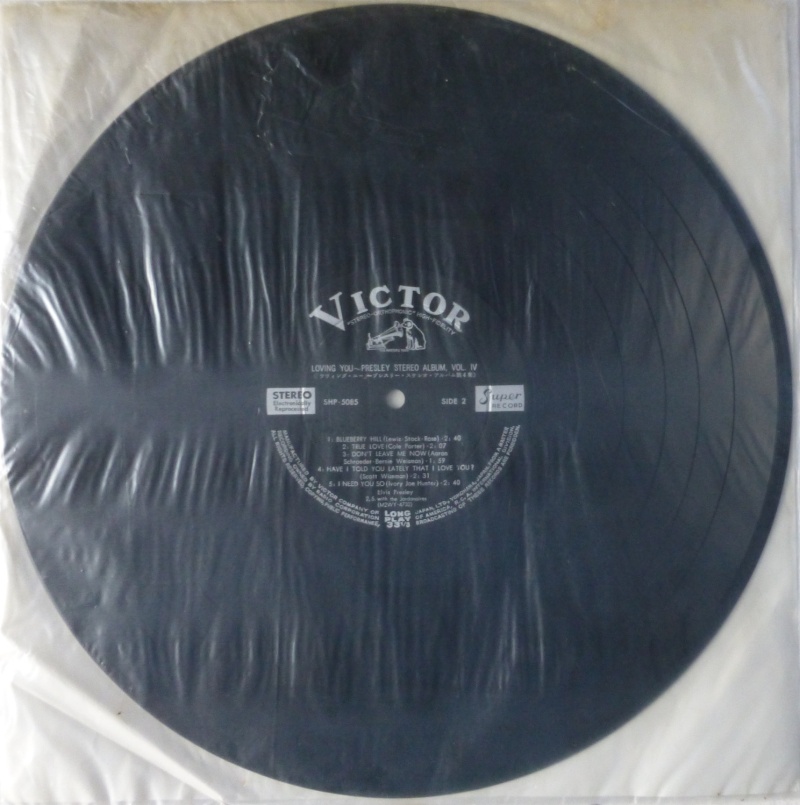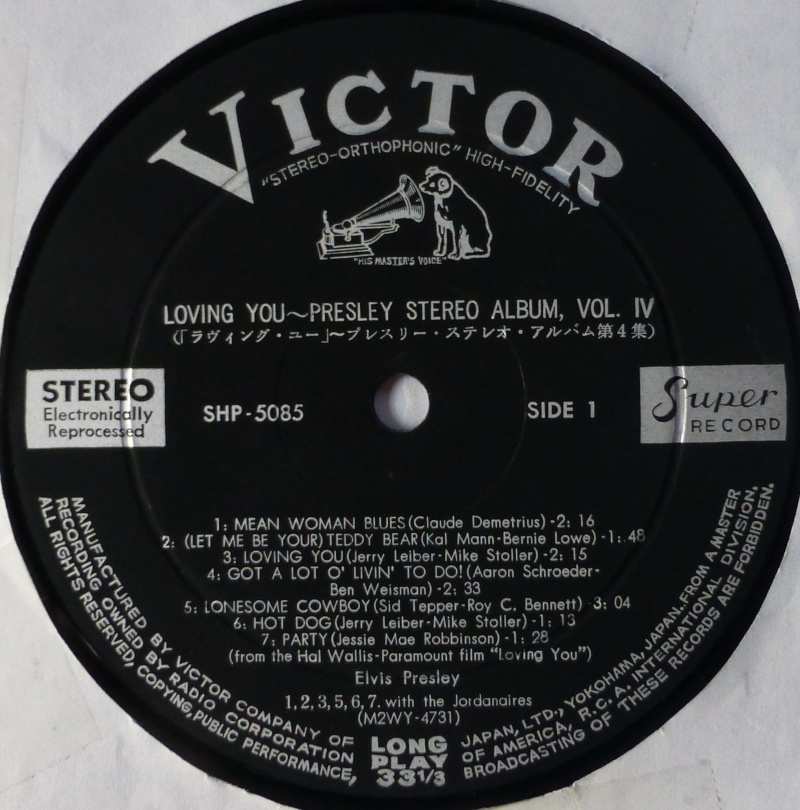 Mustang

Inventar

Anzahl der Beiträge :

1166


Anmeldedatum

: 11.01.13


Alter

: 58


Ort

: Schweiz


Laune :

Sehr gut

am Mi Okt 12, 2016 8:04 pm
Titel:
LOVING YOU
Seite A:
01. Mean Woman Blues
02. (Let Me Be Your) Teddy Bear
03. Loving You
04. Got A Lot O' Livin' To Do
05. Lonesome Cowboy
06. Hot Dog
07. Party
Seite B:
01. Blueberry Hill
02. True Love
03. Don't Leave Me Now
04. Have I Told You Lately That I Love You
05. I Need You So
Land: Japan
Label: VICTOR
Erschienen: Juli 1962
Kat.-Nr.: RA-5109 MONO
Format: 12" / 33 1/3rpm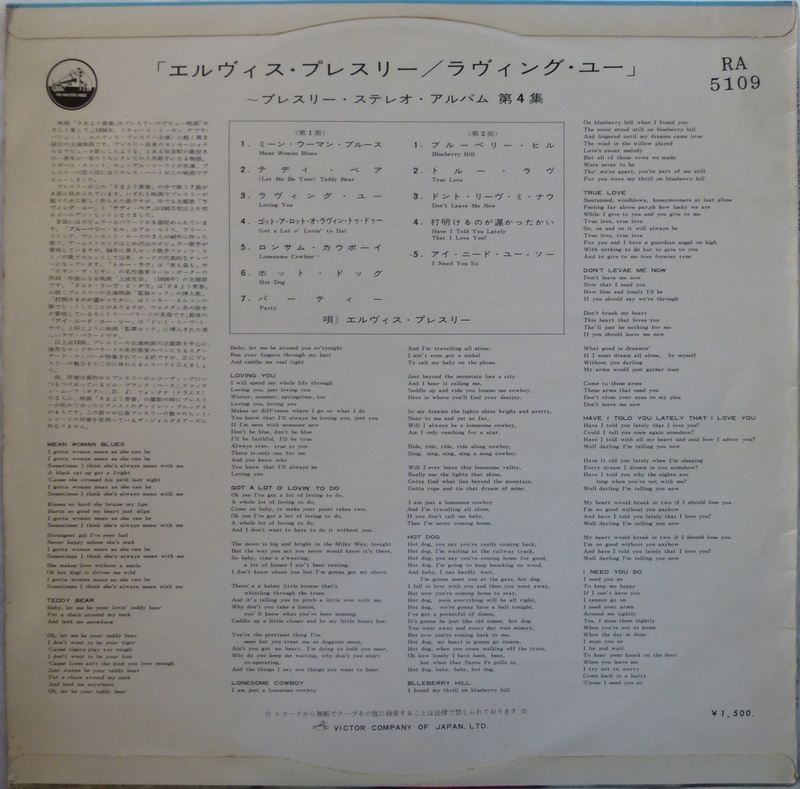 Mustang

Inventar

Anzahl der Beiträge :

1166


Anmeldedatum

: 11.01.13


Alter

: 58


Ort

: Schweiz


Laune :

Sehr gut

am Do Jan 17, 2019 7:54 pm
Titel:
LOVING YOU
Seite A:
01. Mean Woman Blues
02. (Let Me Be Your) Teddy Bear
03. Loving You
04. Got A Lot O' Livin' To Do
05. Lonesome Cowboy
06. Hot Dog
07. Party
Seite B:
01. Blueberry Hill
02. True Love
03. Don't Leave Me Now
04. Have I Told You Lately That I Love You
05. I Need You So
Land: Japan
Label: RCA VICTOR
Erschienen: April 1973
Kat.-Nr.. RCA-6103 Orange Label
Format: 12" / 33 1/3rpm
Mit OBI und Poster in doppelter Covergrösse. 1 von 20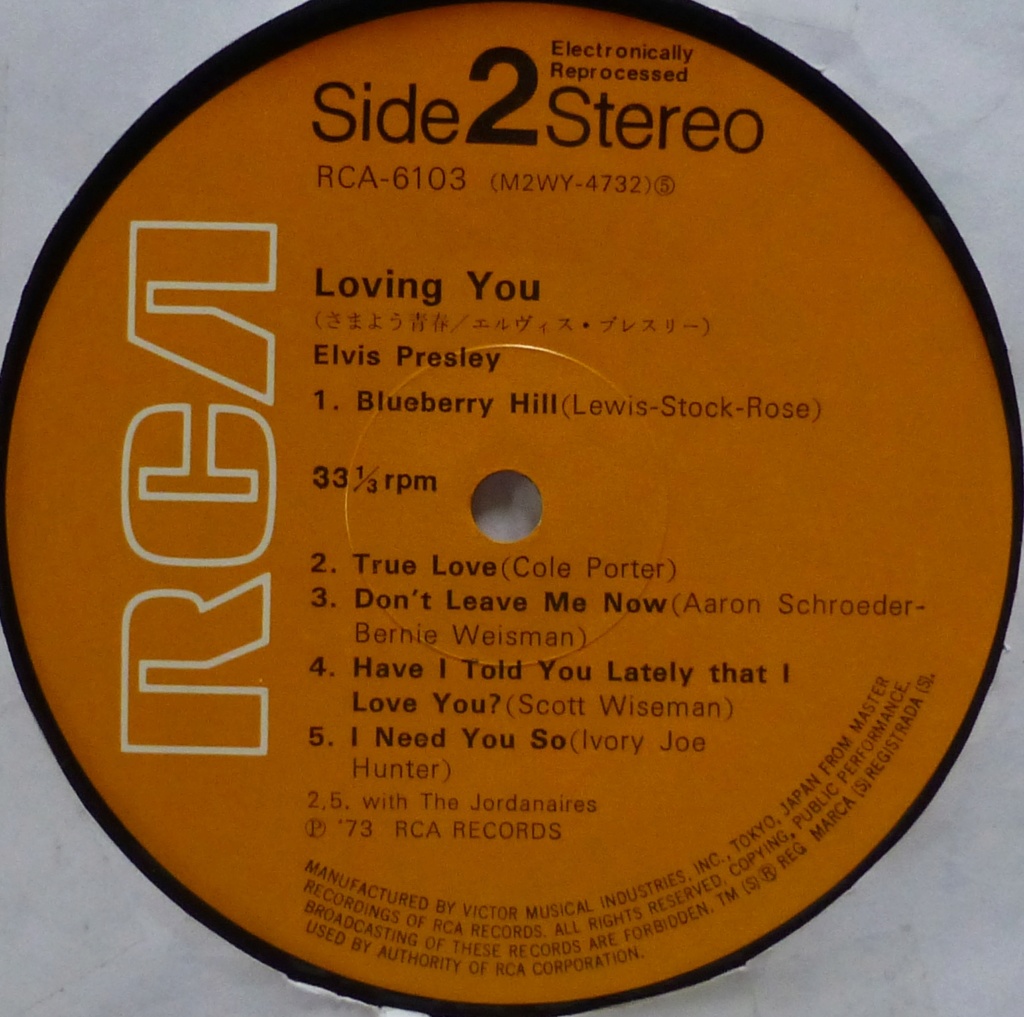 Befugnisse in diesem Forum
Sie können in diesem Forum
nicht
antworten